I was flipping through Sports Illustrated a few weeks ago when I came across this photo: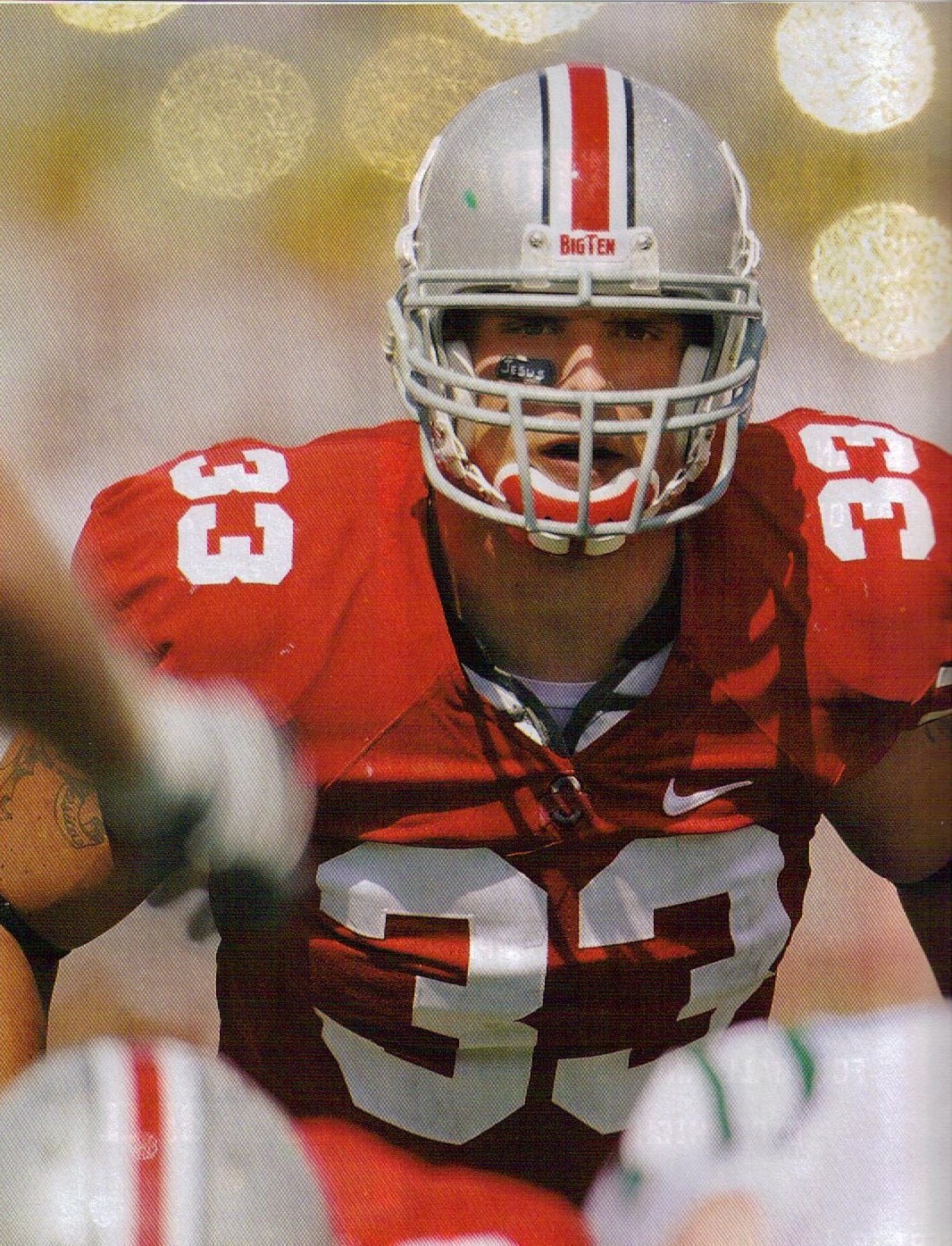 And I thought to myself, That's a pretty cool picture. I'd like to draw that. Which is usually how it goes. Now I'm not an Ohio State fan or anything, I just like the composition: the boldness of the red jersey, the contrast between light and shadow, the intensity in Laurinaitis's face. So I scanned it and filed it away for some day when I actually get motivated to draw it, a day that will probably never come. I've got tons of scans just like this, all waiting for their day in the sun.
What ultimately might get me to do this picture (or any of the others I've got waiting) is if I think there's someone who would appreciate a drawing/painting of it, hopefully on two levels: because they're a fan of the subject matter (in this case, Ohio State/Laurinaitis), and because they have some appreciation of art, however small or unexplored. If I know of someone like that, I'll create the picture and then give it away to that person for free, usually as a surprise. It's a win-win… I had an excuse to do the picture (I simply need to work on my art more, so any reason helps, plus I enjoy the process), and they get something they'll hopefully enjoy. And if it's really appreciated, so much the better. To me, that's the juice. Although it goes without saying that if I lived anywhere near Columbus, Ohio, I'd charge $1,000 for the piece (I'm only slightly kidding). Geography plays into these things.
I posted about seeing this picture and the thought process behind why I draw things on Sons of Sam Horn, and a fellow member who is an Ohio State alumnus posted this in response (it happened to be the week after tOSU's loss to USC) :
"Saturday was one of the worst regular season losses for the Buckeyes in a long time. I didn't get to see a lot of the game because I was at a wedding up in Vermont. If it wasn't for said wedding, I probably would have tried to get to the game as I have a bunch of friends/relatives in SoCal and I've been meaning to get out there to visit my last living grandparent, my father's mother.

As luck would have it, there was a TV in this "study" area on the way to the bathrooms from the reception hall. I was rather worried about this because the place where the wedding was being held (The Equinox) didn't seem like the type of place to have some random TV somewhere. I looked in a few of the bars in the hotel before the reception and didn't find one. I heard about the TV when the groom (a very good friend of mine from high school) approached the table and said, "Hey man, I have two pieces of good news for you. There's a TV in the study and the Buckeyes are winning 3-0." I got up, grabbed my beer, gave him a big hug and went to check out the game.

I only watched a little bit. I'd check the score from time to time, but it didn't look like it was going to be the Buckeyes' night. 35 unanswered USC points later, my buddy goes, "See, I saved you from heading out to LA to see that craptastic game." (He read about how I'd be in LA if it wasn't for the wedding in my blog). As you may or may not know, a loss in college football pretty much eliminates you from national championship contention. This is especially true for the 2008 Buckeyes because of their less than stellar showings in the past two national championship games.

The nice part about the placement of the TV was that it really was directly in the path to the bathroom from the reception room. The good part about this was that I could still be social while at the same time, check out some of the game. It was also a nice reminder to head back into the reception and not spend too much time out there when I started seeing the same people or hearing comments like "You're still out here?" It also provided some laughs when I would curse at the TV as some of the snowbirds from the wedding would walk by.

Since Saturday, I've been feeling really bummed about the game. I was so bummed that on Sunday, I went from predicting a Patriots win over the Jets to fearing that the Jets would romp the Pats. It would have fit right in with Liverpool's win over United and USC's complete demolition of the Buckeyes. Thankfully, the Pats pulled it out in (IMHO) one of Belichick's best regular season wins during his tenure in New England. I think it was Steve Young on the ESPN pre-game show saying something like "The Pats won't score 10 points today" that really set me off pre-game.

Anyhoo, the Pats lifted my spirits about sports in general but it wasn't until I saw the picture above that my Buckeye pride was rekindled. I love the picture. It is of a senior, who put off making millions to come back to take one more crack at trying to win that elusive national championship. I love his number (for obvious local reasons) and the big fat swoosh on the front of his jersey. I've always loved when they wear the scarlet jerseys and the contrast of the gray helmets which is as familiar as fall Saturdays in the 'Shoe. It's a great picture. Thanks for posting it."
This is what art can do for us.