A long time ago, in a galaxy far, far away…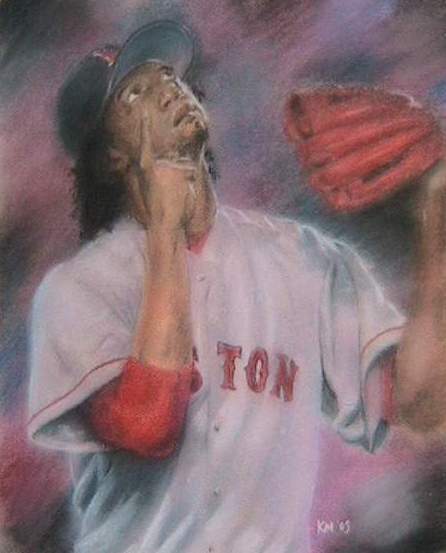 This was the first piece I ever sold. It was in 2005, a couple of years into my marriage and my first child had just been born, and I figured that maybe it was time to try to parlay my talent into the dizzying riches that so often come to artists (especially untrained ones). It was a commissioned work, done through the Sons of Sam Horn website (a Red Sox discussion board), where I was a member. Since I gravitated toward sports subjects in my art, if there was going to be interest in that type of work, it would be shown by some of the members there.
I posted on the board about being available to do some artwork, and when an interested party responded, my first thought was, Uh oh. It was like asking a woman who was way out of your league on a date — to borrow from Sir Edmund Hillary, because she's there — and to your surprise she said yes. The unexpected affirmative answer opens up a lot pitfalls that didn't seem so important when you thought you were going to be shot down.
Luckily the process went smoothly. The prospective buyer wanted a drawing of Pedro Martinez, which was just fine with me, and I had plenty of source pictures to work from. We traded some emails until he decided which one he liked best. I had no idea how to price what I was doing, only that I didn't want to charge too much because it felt was absurd to be asking for money for this in the first place. I ended up charging $100, which came to net of $70 after the matte and frame. The price seemed astronomical at the time to me, in an I-can't-believe-I'm asking-for-this-kind of way, even though it broke down to an hourly rate of less than $10 when all was said and done. Not that you can price art by the hour.
Thankfully the buyer seemed very appreciative, so much so that I'll gladly plug his own entrepreneurial endeavor, Maple Street Press, publishers of the Red Sox Annual, among other things.
So this drawing ushered me into the ranks of the professionals. I sold a couple of pieces after that to some other SoSHers, but between my wife and I having another child and moving from Maine back to Massachusetts, I didn't pursue it as aggressively as I could have. Looking back, that was probably a good thing. Too much going on in other arenas.
This is a piece that I'm not happy with overall (you'll sense a theme here). It just seems too fuzzy, I think. Part of that is inherent to the medium (color pastel) and part of that is the crappy digital camera I used to take the picture (it's actually a still shot from a camcorder), and since the picture is all I have left of the work, it's bound to taint my view. But still. However, I believe the buyer when he says he's happy with the drawing (we still meet for beers on occasion), so that's all I can ask for. It was an important step, this charging-money-for-art thing. Women and power were soon to follow.