Posted on
February 21st, 2008
by Kevin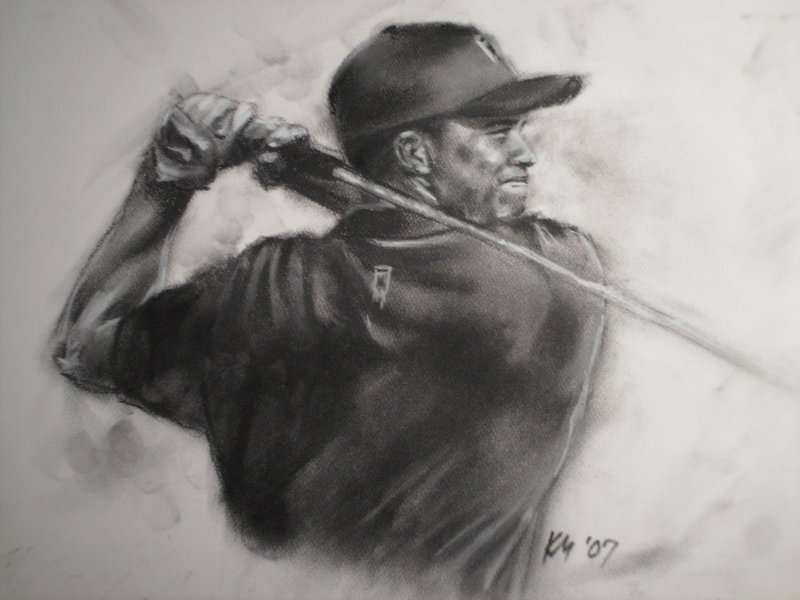 Sort of. In a Star Wars IV: A New Hope kind of way. In that A New Hope seemed like the beginning, but it turned out there were really three other movies before it, only we saw them 20 years later. "Prequels."
But now that I think about it a little more, the Tiger Woods drawing is actually the beginning of a third trilogy in a series, not that Lucas has gotten around to making the Star Wars equivalent yet. The whole comparison a little tortured, I admit. But let's run with it.
OK, so if that's the case (which I think it is), then the first trilogy, chronologically speaking — Phantom Menace through Revenge of the Sith — would be the series of drawings I did for my groomsmen back in late 2001 through early 2002, pieces to be given as gifts at my wedding's rehearsal dinner in the summer of '02. Although that's not quite right, either. Maybe it would go back as far as the pen-and-ink Nomar drawing I did for my freshly-minted brother-in-law as a Christmas gift in 2000, in honor of his having joined the family that October.
Now that I think about it, yes, that's it. The Nomar's the one. Because prior to that I hadn't really picked up so much as a pen, a charcoal stick or a paintbrush with a purpose since I left Syracuse in the winter of 1990. Ten years gone. Which would make my high school and aborted college years The Hobbit, if only I weren't mixing epic sagas.
At any rate, my middle sister Michelle was the first of us to get married (fall of '00), and her husband Mike was a Sox fan (of course), so I thought drawing him a Nomar picture as a Christmas gift that year would be a cool thing to do. I never had any brothers, just two sisters, so the arrival of a fellow man into the family who was close to my own age was a profound and welcome change in my life. Despite not having drawn for almost a decade, it was something I wanted to do. And to my surprise, in the course of drawing this picture for him, I found myself enjoying the process. Like the cokehead who lays off the snow for an extended period of time, but comes back despite knowing better, I suppose. *I've never done cocaine, but my addiction to animal porn is probably not as relatable.
When Mike unwrapped his gift, I could tell he really appreciated it, but the kicker was that he didn't know that I had drawn it. He just assumed it was some store-bought piece, until a few moments passed and he saw my signature. Which isn't really a signature, just my initials and the last two digits of the year in which it was completed; I always got annoyed when artists had ostentatious signatures, drawing attention away from the piece. Digression aside, he liked the Nomar, and I liked that he liked it. So art wasn't such a useless thing anymore.
I got engaged the following spring, and by that time I had already decided I was going to give my groomsmen some original artwork as gifts, which ended up taking around 6 months to complete (one month/piece for each man in the wedding party). It was a lot of work, but it was an important development for several reasons:
• That I even decided on such an undertaking after being "retired" for so long in the first place.
• I had to bust my ass and stay on schedule, because if I created five masterpieces but wasn't able to start the sixth due to time running out, the whole concept was shot and I'd be screwed. "Hey, sorry Rob, you don't get a drawing. I'll get around to it after the honeymoon." That I succeeded is all the more surprising because busting my ass and staying on schedule has never been a strong suit of mine in any walk of life, let alone when I was an art student in college, which was the last time I had to match that kind of artistic output.
• I enjoyed the process. A lot. Which is the most important, if I may state the obvious. Creating art (even unoriginal and derivative art such as mine) is an incredibly draining process, and there's really no reward at the end of it, at least not for me, because I usually dislike the final product. It never ends up being what I saw in my head. So it's a drag, which is why I buried it for ten years. That and the fact that I curse the skill to begin with, which has never been anything but impractical. I'd feel a lot more comfortable in my skin if I had been blessed with the discipline to study law or medicine, or if I had a nose for finance, or even to wake up without hitting the snooze button seven or eight times first.
But this is what I've got instead of those things, and Project Groomsmen worked, which was a refreshing development, given my track record.
Anyway, I think we were talking about the time continuum of the Star Wars universe. You know, it's not as if I worship the Star Wars canon. Really. It's just the most appropriate analogy. If six Godfathers or six X-Men had been made, I'd be trying to shoehorn them into this scenario, you can bet. Which is silly anyway, because I've already stated this art saga thing is really three separate chapters (chapter equaling trilogy, in this case), while the Star Wars series has only two. But it's the closest thing. That's all.
So which drawing is A New Hope, then, if not the Tiger Woods? The first Pedro I did. That was the first piece I actually sold (I really should be posting or linking to pictures of this stuff, by the way). But I'm not, because I want to address each one on its own merits. Which is strange, because I haven't addressed the Tiger drawing, and that's what this post is supposedly about.
I'll get to it. In due time.