Posted on
October 17th, 2008
by Kevin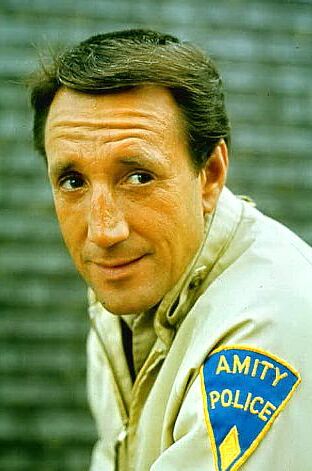 Because life can always be boiled down to Jaws quotes.
As anyone who's read some of my previous posts knows, I rarely let an allegedly finished piece stay finished. There's usually some aspect of it that nags at me until I return to the table and re-work it, and sometimes I can fix it and other times I can't. Prior to last night, the most recent example of this phenomenon was with the Paul Pierce drawing I did in August. I had to battle to even come up with an approximation of his face, and once having claimed that moral victory, I went back to the well rather than play it safe and leave it alone. I think it ended up working out for the most part, yet it's never a sure thing, this revisitation process. But I tell myself I wouldn't be what I am if I didn't have that inner eye that felt the need to improve things… I have to be my own worst critic.
So of course I wasn't finished with the Ted Williams picture I "finished" the other night, either. What didn't I like about it? I thought the hat was kind of messed up. The visor seemed too large and the angle at which it sat on his head seemed wrong. The thing is, I scrutinized the source photo many times and determined that the proportions were correct (it wasn't like I was overtly screwing it up, which does happen), it's just that it wasn't working out as drawn on the page. And in the past, I've often been too slavish to the source material, assuming that my goal was to achieve the highest degree of verisimilitude as possible.
But lately, primarily because I've been drawing so much, I've built up a sufficent trust in my own eye and in knowing what works and what doesn't. Which brings me to our man in blue from Amity (which, as you know, means friendship).
There's a scene in Jaws where Hooper and Brody are drinking wine and lamenting over the fact that the shark is still at large, but the only way to prove that is by doing an autopsy on a recently caught tiger shark, the results of which should yield definitive proof (e.g. human body parts that either are or aren't present in the shark's slow-reacting digestive tract).
Brody says, "So let's have another drink and cut that sonofabitch open."
Brody's wife responds, "Can you do that, Martin?"
Brody drunkenly slurs, "I can do anything. I'm the Chief of Police."
There was a time when I'd doggedly stick with trying to make the cap in the Williams drawing appear as it did in the source photo because that was the goal. Right? Well, who made that rule? I can make the cap look like how I think it needs to look to make the drawing work. Of course I have jurisdiction over that.
I can do anything. I'm the Chief of Police.
It's kind of sad that it's taken this long to assume that mantle over my artistic process, but it's noteworthy nonetheless.
The kicker is that in this case, I doubt anyone can tell the difference between the version with what I felt was a screwed-up cap and the version where I just drew what I thought looked "right". But that's OK. I can tell, and even if there really is no difference (and there might not be), there is when it comes to my peace of mind over the drawing. Which is what matters most. I am, after all, the Chief of Police.
As an aside, I was working on the changes to this drawing during the Sox game last night. I started once they fell behind, 7-0: knowing I wasn't going to turn the TV off or stop watching the game (despite the score), I figured I could at least divert my attention from the train wreck while paradoxically keeping an eye on it. I paused briefly when Papi hit his home run, and then stopped altogether once Drew hit his.
Superstition will not hold sway for Game 6. This piece is finished, believe it or not. Part of me wishes it weren't, just so I could work on it again on Saturday night to conjure up the necessary gold dust, but that would be pushing it. I think the Red Sox are now also the Chief of Police, anyway. They won't need it.